Universities in Paris, France
About Paris
Paris, the capital city of France, is home to some of France's most prestigious universities. The city also has one of the largest concentrations of international university students in Europe, and you have a wide variety of universities to choose from as an international student in Paris. The affordable tuition fees in France are also a prime attraction for students. Paris is a popular destination for international students because they can experience the culture and beauty of Europe while living in a welcoming city.
Paris has many world-class universities, and the city is home to some of the best institutes for higher education in fashion, business, technology, science and art. Program lengths usually vary between 1 and 5 years. Here are some of the most popular programs for studying in Paris:
Journalism
Business Management
Fashion and Design
Economics
Politics and International Affairs
Art and Photography
Engineering
Biological Science
If you are thinking of studying in Paris, it is important to know the best universities in the city and what life as an international student is like in Paris.
Why Study in Paris?
The opportunity to study in a city that boasts a history of famous scientists and artists will inspire you. As you get to learn in the same classrooms where Nobel-Prize winner Marie Curie once taught and spend an afternoon at the Louvre Museum — you'll fall even more in love with Paris.
There are 3 key reasons why you should consider studying in Paris as an international student:
Low Tuition Fees and Scholarships at Paris Universities
Tuition fees at public universities in Paris only total approximately $4000 every year for international master's and PhD students, and around $3500 for undergraduate students. Paris also offers plenty of scholarships for international students. For example, the Erasmus Mundus Scholarships is a fully-funded 100% scholarship offered by the EU which covers tuition, travel, and living expenses for selected international students attending master's and PhD courses. Here are a few more scholarships offered to international students in Paris:
Foundation Rainbow Bridge MBA Scholarships for African and Asian Women
The Fulbright Scholarship
Eiffel Scholarship Program of Excellence
Paris Location
France is located in Central Europe and allows easy and fast travel to other countries and within France. Paris is surrounded by popular cultural and historical tourism destinations including Spain, Italy and Germany. Travelling to and from these European countries is affordable and highly enjoyable for international students in Paris.
There are so many wonderful European study destinations that you will be lucky to explore if you choose to study in Paris, many of them will be a relatively easy commute, as transport is not only efficient, but also reasonably priced.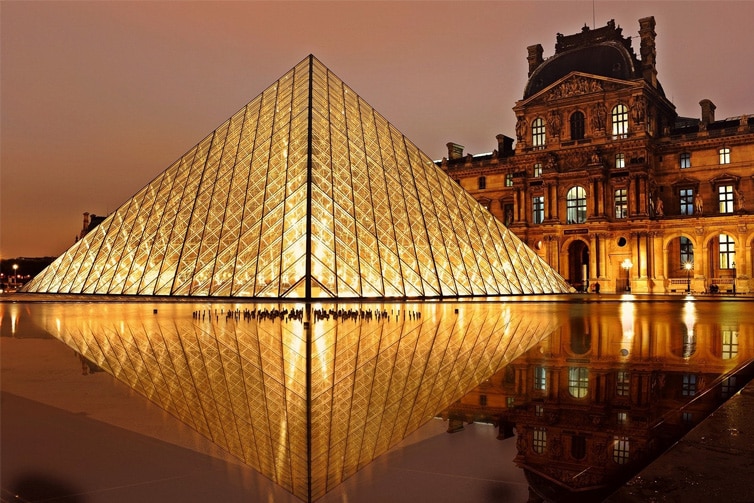 Employment opportunities in Paris
Paris is one of Europe's largest IT and finance hubs, and studying in Paris allows you to choose from a wide range of jobs across different industries after graduation. Additionally, even without receiving an employment offer, an international student can request an Autorisation Provisoire de Séjour (APS – temporary resident permit) which remains valid for twelve months and is non-renewable, while they continue to search for employment after graduation. Students from countries with bilateral agreements with France, such as Indian students, also benefit from special conditions so long as they apply for and are granted a provisional residence permit (APS).
Studying abroad as an international student can really help to improve your career prospects in a wide variety of ways. As a graduate with experience studying and working abroad alongside many different people, employers will be impressed with your adaptability and willingness to step outside of your comfort zone.
Top 10 Universities in Paris according to the QS World University Rankings 2024
| | | |
| --- | --- | --- |
| Paris Ranking | World Ranking | Institution |
| 1 | 24 | Université PSL |
| 2 | =38 | Institut Polytechnique de Paris |
| 3 | 59 | Sorbonne University |
| 4 | 71 | Université Paris-Saclay |
| 6 | =192 | Ecole des Ponts ParisTech |
| 9 | =319 | Sciences Po |
| 7 | 236 | Université Paris Cité |
| 10 | =328 | Université Paris 1 Panthéon-Sorbonne |
| 24 | 851-900 | University Paris 2 Panthéon-Assas |
| 23 | 851-900 | CY Cergy Paris University |
Rankings are a really useful way to see what a university can offer you as a student, and how they perform on a national and international scale. However, they are open to interpretation, and shouldn't be relied on entirely to make your decision. Understanding what the ranking tables actually mean will help you to use the information they provide in order to aid you when deciding where you might want to study.
Fashion Universities in Paris
Paris is well-known as one of the world's fashion capitals and has a rich tradition of artistic design and fashion within its culture. Paris is home to major fashion houses including Louis Vuitton and Chanel, and hosts the world's most popular fashion event every year, the Paris Fashion Week. Paris-based design houses employ high numbers of international students from Fashion Universities in Paris each year. Below are some of the most popular private and public universities for studying Fashion in Paris:
Atelier Chardon Savard
IFA Paris – International Fashion Academy
L'institut Marangoni
Mod'spe Paris
Paris American Academy
Paris Fashion Institute
Paris Fashion School by PSL-Ecole Nationale de Mode et Matière
SKEMA Business School
Can I Study in English at Universities in Paris?
There are over 1000 academic programs taught entirely in English at French universities. These are the best universities in Paris offering English-taught programmes:
École des Ponts Paris Tech
Université Paris 1 Panthéon-Sorbonne
Université PSL
Sorbonne University
Many French people speak English, but it would be really helpful to know at least some French for effective communication while studying in Paris. International students have a much better time managing studies and everyday life if they have some knowledge of French. There are many online and in-person language courses available for you to sharpen your French, and you will learn even more about the French language when you immerse yourself in the Parisian culture and lifestyle.
If you choose to study in English but do not have English as your first language, you may have to provide evidence of your language proficiency before you can begin your studies. This will normally done by taking an English language test. There are a few different English language tests for international students, and each can require different things of you, but all of them are designed with international students in mind, and are in place to help make sure that you are fully prepared for your studies.
Is Paris Affordable for International Students?
Compared to other major cities in the United States and United Kingdom, for example, Paris offers extremely affordable tuition and average living costs for international students. Aside from the approximately $3,000-4,000 tuition fee per year, living costs in Paris can be between $1,500-2,000 each month. This include shared or college accommodation, groceries, transport costs and miscellaneous spending. You should make careful calculations of monthly budgets while studying in Paris to avoid unnecessary spending.
In Paris, student life is enjoyable and cheap. Even quality French cuisine is affordable for international students. Crous Paris, an organisation that works to serve Paris students and improve their lives, operates 15 restaurants and 30 university cafeterias, and many Parisian students eat a two-course meal for just over four dollars at one of their locations every day.
Even if your budget is extremely limited, do not worry! The French government is keen to help students with financial aid. For example, there are many housing aids you can apply for, such as La Caff which helps many Erasmus scholarship students every year. There will also be many other funding and scholarship options available to you as an international student. The universities you are interested in studying at will be able to provide you with more information about this.
Thinking of studying in France as an international student? Take a look at our Study in France directory for more information.
Study in France