MBAs for ambitious, fresh graduates at Australian Catholic University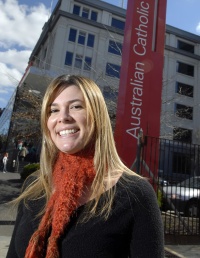 Are you a fresh undergraduate interested in furthering your knowledge, skills and career in the world of business?
Aspiring students often find it difficult to meet the entry requirements for MBA programs, as most in Australia require proven work experience for admission.  This means that a high quality MBA qualification is often out of reach for ambitious students fresh from undergraduate studies.
Australian Catholic University (ACU National) recognises this challenge, and has chosen to offer students the opportunity to enter its MBA programs without work experience.  Admission to ACU National is based on academic performance and English proficiency only.  This opens the program up to a wider range of students and ensures that those with more recent academic backgrounds are able to mix with those who have been in the workforce for some time, and visa versa.
The Master of Business Administration (MBA) is recognised as the most valuable postgraduate degree in the world.  It can open doors to exciting work opportunities, or may help to further your career with your current employer. Possible careers include:
Accounting
Employment relations
Financial management
Human resource management
International trade and investment
Marketing management
Marketing research
Policy administration
Sports management
MBA graduate Sanjay Sharma describes his experience at ACU National as "exciting and unforgettable".  "The student-teacher ratio is very low, which helps the students to take active class participation," he says, "the friendly and helpful staff guide students not only in academics but also in career related fields".
ACU National has recently announced the opportunity for students to complete an MBA alongside another Master Degree within 2 years. Dual degrees give students broader career options and enable them to secure accreditation by relevant professional associations. Options include:
Master of Accounting / MBA – accredited by CPA Australia and ICAA
Master of Business Information Systems / MBA – accredited by ACS
Master of Global Leadership / MBA
Master of Human Resource Management / MBA – accredited by AHRI
Master of Marketing / MBA
Double masters programs will be available at ACU National's North Sydney and Melbourne campuses from 2010.  Please check www.acu.edu.au/international for further details.
If you want to receive the StudyLink Study Abroad Newsletter, so that you get the most up to date study abroad advice in your inbox, you can
sign up here
.