Brave new world of career choices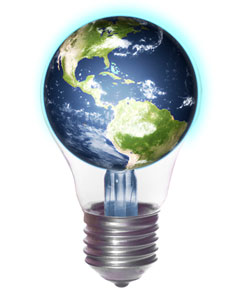 The current top ten IT jobs didn't even exist back in 2004. Students today are learning skills for many careers that are yet to be created. With technology redefining the way we live, and transforming just about every industry around the world, where are the new opportunities in your future?
In this article we look at future forecasts to present a list of six exciting brand-new career trends. Some may sound crazy. And some are already happening somewhere.
Environmental
Water purification expert
Green building consulting
Organic agriculture production
Environmental cleanup technician
You could prevent the 'water wars' predicted in the 21st century by finding a solution to shrinking drinkable water supplies. Or you could develop specialist skills in sustainable design to reduce energy consumption. Biodiversity students may find themselves preventing other biological disasters, such as preserving the wide variety of seeds we currently rely on in case a blight hits our crops. And oil spills and natural disasters, such as floods, will need heroes with high-tech scientific expertise.
Alternative energy
Sustainable car designer
Wind park engineer
Hydrogen fuel station manager
We need an alternative to oil. Wind, solar, biomass and waves are just the beginning. This is where science, engineering and commercial know-how will collide to create a new and exciting industry.
Medical
Stem cell researcher
Epidemologist
Pharmaceutical developer
Genetic data engineer
Gene screener
Find cures for Alzheimers or Parkinson's disease, or prevent the next pandemic. Get cheap versions of new drugs out to third world countries quickly and safely. Develop new gene therapies as a bioinformatic specialist, or help employers screen their staff for genetic tendencies.
Security
Digital forensic investigator
Quarrantine enforcement
Cyber crime is on the rise, and digital forensic specialists are at the forefront of catching hackers and identify fraud criminals. In a worst-case-scenario, a deadly virus will require quarrantine security as much as a cure.
Services
Interested in a banking career? Why not help people get out of debt instead of further into it. Millions of people are already unable to pay off their debts in their lifetimes, as are many countries. Or, if you like the idea of counselling but want a more positive outlook, personal or business coaching is a huge growth industry.
Technology
Social networks manager
App creator
Social media agent
Data mining engineer
IT careers are no longer be about technical skills, but being able to connect and collaborate globally with the latest innovations as quickly as possible. Job opportunities are more creative and less geeky, including social media consultants, app developers and green technology engineers.
If you're IT interests are more hard-skills focused, data mining will be in high demand, giving businesses valuable insights into their customers and products.
We'll still always need teachers, doctors, nurses, artists and plumbers. But one day it might be just as common to be a robot mechanic as a car mechanic, or a space tour guide as a hotel manager.
Did you know? Dr David Strangway headed up NASA during the Apollo space missions during the 1970s. But when he got his physics and biology degree in 1956, nobody thought man would be on the moon within their lifetime, let alone a decade later. NASA, and the entire human space program, didn't even exist.
Think outside the box
So even if you're studying a traditional subject area, there may be new ways you can apply your skills in this shiny new future. Environmental law instead of criminal law, biomining instead of engineering, bio-med developer instead of pharmacist. The opportunities will continue to expand, you just need to have the skills and passion to make the most of them.
When you're searching for the best place to learn those skills, look at the expertise at a variety of innovative universities around the world. So far, there are no degrees in Twitter, and many of the above careers don't have a clear path. But chances are these emerging careers have evolved from something more traditional – such as journalism and PR, in the case of social media.
So find out whether your course will introduce you to the latest technology and ideas in your field. Can it teach you more than just theory – such as creative problem solving, refining and editing ideas, leadership skills and working as a team.
Are you planning on a bold new career? What do you hope your industry will achieve in the future? Share your thoughts with us below!
If you want to receive the StudyLink Study Abroad Newsletter, so that you get the most up to date study abroad advice in your inbox, you can
sign up here
.