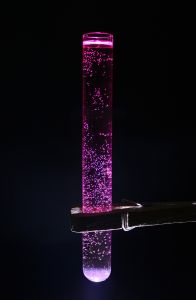 Where will your science degree take you? From laboratory to field-work, from business to policy, the variety of career choices are endless. Plus, with so many challenges facing the human race, science graduates have never been so popular.
Even President Obama has weighed in, sounding concern over the lack of qualified scientists in the US workforce in an April speech at the National Academy of Sciences.
In reality, the supply of science students is increasing – but many are choosing careers in medicine, finance or law where the pay-cheques are higher.
So if you want to use your technical science skills in your graduate job, where are the best science opportunities today? In this article we look at some new and growing sectors.
Finding a cure
Cancer research is becoming a very competitive area for scientists. "Because of its high profile and as it is such an exciting area of science, it's a highly competitive and dynamic place," says Steve Jackson, a lab head for Cancer Research UK. "You have to keep your wits about you."
If you want to win the Nobel Prize for finding a cure for cancer, start with a degree in pharmacology. Learning about other disciplines can be a real advantage too. "Cancer research is very complex," says David Knowles, chief scientific officer at UK biotech company Pharma. "The people who sit at the boundaries can help make or break a company."
Pharmacology graduates usually work in labs in hospitals, research organisations or pharmaceutical companies. It's important to note this field is different to a pharmacy degree, which will lead to a career as a pharmacist dispensing medicines to the general public.
Sexy forensics
TV shows such as CSI have made forensic science a glamorous choice for scientists. The reality is a little different. You need a strong stomach and attention to detail to succeed. Develop practical lab skills and prove your pure science ability before you specialise in catching the bad guys.
Saving the world
Earth science is becoming increasingly popular, with major issues such as resource management and conservation and climate change one the agenda for all governments around the world.
You'll get your hands dirty collecting samples out in the field, and travel all over the world. Earth Science graduates may find themselves working at oceanographers, researchers, seismologists, or specialist consultants in fields such as contaminated land or reservoirs.
Biology graduates can also become scientific heroes, saving people from new strains of infectious diseases and virus pandemics, or protecting ecosystems. Embryology and genetics are growing fields for biologists too.
SEE ALSO: Biology Degree Guide
Brilliant minds
Think of a famous scientist. Did Sir Isaac Newtown (gravity), Albert Einstein (relativity) or Galileo Galilei (astronomics) come to mind? They all studied physics, and their theories have had an enormous impact on the way we think about our world.
As a physics graduate, you may continue to work in further research at a university, or in any type of industry as an engineer, software developer, computer scientist or medical researcher. Physics teaches you important sills such as problem solving, information handling and critical reasoning, so it can open up a wide range of career opportunities.
SEE ALSO: Physics Degree Guide
The building blocks of life
If you're interested in chemistry, you'll find it's much more than bunsen burners and test tubes. Chemistry graduates are in high demand, especially in the health industry where the global financial crisis has had little impact.
Chemistry focuses on new ideas and discoveries, and can lead you into a career developing new eco-friendly materials, new foods that taste better, or new medications for the pharmaceutical industry.
SEE ALSO: Chemistry Degree Guide
So, no matter what type of science degree you're interested in, start searching on StudyLink for the best course for you.
You can also find more information about a degree in Science on our Science Directory.
Related topics