How to Get a Good Job, Quickly. Top Tips Shared by RGU
Deciding to continue your education abroad is a huge commitment – of your time, your life and for many most importantly of your money; so how do you know which course, and at which university, is going to give you the best return on that investment?
You can spend hours flicking through prospectuses, and days trawling through university websites, but it is very unlikely you will ever find what you are looking for – an institution which will give you a guarantee if you go there, a job, career and a great wage will instantly follow. Sadly, there is no magic formula for this but by carefully selecting where you want to study with your employment prospects in mind hopefully you'll chose a place that will give you the greatest advantage to kick starting your career.
So here are some top tips from Robert Gordon University on how to select where the right place is for you to continue your studies.
See Beyond the Rankings
High rankings equals a good university, right? Well, that is not quite the full picture. If you are using rankings as your benchmark, be sure to consider what these rankings are based on. Often, many of the world rankings draw heavily on research output, but not all universities in the UK have a research focus so won't feature on many ranking lists. The reality can also be that in many cases the research which is being conducted at a university won't percolate down to the classroom you'll be in so have a think about what is really important to you and select the right rankings to use as your bench mark – it could be graduate employment, international student satisfaction, the safety of the city, part time job prospects. Personalise your university search to match your expectation of what you are looking for in return for your investment.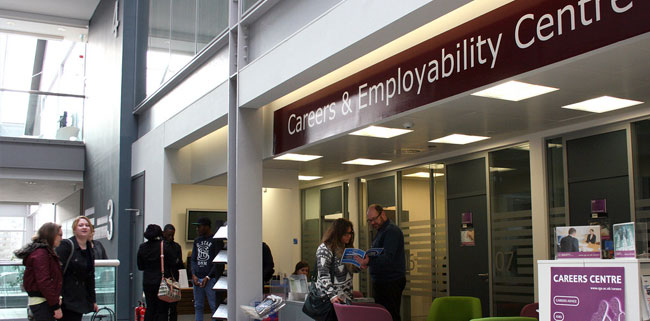 Turn to the Professionals
Most industries will have professional bodies who offer networking, career development opportunities and industry insight to people working in that field. Once you know what subject you want to study, seek out the universities which offer courses accredited by the relevant professional body as that gives you a clear indication that what you will be studying has been reviewed and approved as industry relevant by the professional experts in that area. Here at Robert Gordon University, almost 75% of our courses are accredited by the relevant professional body so it means our students know that what they learn is exactly what they will need to know have a successful career in the area they wish to work in. Often, student membership to the relevant professional body will be included in the cost of your tuition fees so by selecting your university carefully you can find that you can get extra value added to your education, for no extra cost.
The Countdown to Graduation Begins on Day One of Your Course
With the new visa regulations, many people considering coming to the UK to study mistakenly believe that they have four months after they finish their studies to find a job. The mistake here is waiting till that point. From day one, you should be thinking about your next step and making sure you avail yourself of every opportunity you can which can add to your employability. Ways to do this include things like connecting with the Careers Service on campus as soon as you arrive. At most universities they will develop a programme with you to help increase your employability which will include things like working on creating a strong CV with you, providing interview coaching and assessment centre tips as well as sharing with you an extensive database of vacancies for both part time and full time positions. If you leave this to the last minute, you are putting yourself, and the Careers Centre, under huge pressure so do it early! It's a great idea to use careers support as one of your selection criteria when choosing which university to go to, as often their support can be the difference between you getting a good job quickly, or not.
Learn Outside the Classroom
Going to the next level of your education can be a big leap, and can leave you with little time (or brain power) to even think about anything outside the classroom; however by not taking advantage of many of the extra curricular opportunities the right university can offer you, you are denying yourself a world of additional value in return for your time and money. Examples of this might be getting involved in competitions, like our MSc Project Management students did here .These can bring you prestige, prizes and are often a great thing to talk about at interviews as show that you have gone above and beyond in your interest towards your subject. Getting involved in volunteering and charity work also shows employers that you are someone who can manage your studies whilst helping others too. Also, don't turn down any networking opportunities your university offers you as these are a great chance for you to interact with industry professionals. Our students here at RGU are very lucky that we often invite in professional speakers to present lectures, introduce themes or provide real life case studies for our students to consider, which helps our students think, act and behave like professionals even before they have graduated.
So these are our top tips to help you increase the return on your investment when you chose to come and study at a university in the UK. We believe that we are a good authority to help you with this as the Sunday Times said about us  "A degree from Robert Gordon is as near to a guarantee of a job as you can"
If you'd like to know more about Robert Gordon University, please visit our website
If you want to receive the StudyLink Study Abroad Newsletter, so that you get the most up to date study abroad advice in your inbox, you can
sign up here
.