Ever wondered what O-Week is really like?
Worried about starting university in a new city? Well don't be. We've just finished our Mid-Year orientation for our international students and the program was packed with useful information and fun activities.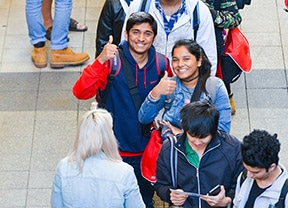 Starting with an official welcome from our Provost, Professor Allan Evans, and covering all the information any new student would want to know, the O-Week program was a great success. Areas covered included program information sessions (where students were introduced to their selected study program, and had the opportunity to meet the lecturers and tutors who will be supporting them throughout their program), safety and wellbeing and the vast range of student support services available to our students.
The Student Engagement Unit were on hand to discuss the wide range of support services including study support and career and employment advice. Students got the chance to hear first-hand from an International Student Representative about all the services that our not-for-profit student association provide, and how they act as the voice of our students to ensure all students get the representation and support they need.
But it's not all serious. Just when it was starting to look like it was all about the pressure of studying and being away from home, the fun began. Students got the chance to try their culinary skills at a local café, and learn about the free ongoing cooking classes that UniSA run where free food and movies are available to all our students. Who doesn't like free food and movies? If cooking isn't your thing there's the chance to cuddle a Koala Bear at the beautiful Cleland Wildlife park in the Adelaide Hills, a tour of the iconic Haigh's Chocolate Factory and Adelaide Central Market or a visit to the Adelaide Zoo.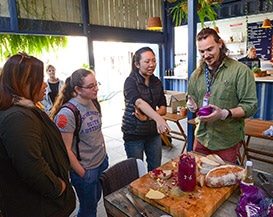 For those students who were feeling brave and looking to make new friends 'Speed friending' was available. The opportunity to get to know fellow students and make new friends over pizza and games was very popular.
And finally our campus tours gave everyone the opportunity to explore their campuses, and find their way around.
After a full week of orientation excitement, it was over in a flash. But although orientation was over everyone had a chance to realise they're not just another student wondering around campus all on their own. There are lots of different support services and social activities that can be utilised to get the most out of the student experience all year round.
Learn more about University of South Australia
If you want to receive the StudyLink Study Abroad Newsletter, so that you get the most up to date study abroad advice in your inbox, you can
sign up here
.