Options to study nowadays are almost limitless. There are hundreds of different bachelors students can choose from, which increases the chance that students can pick their perfect studies. However, once a student has started with his/her/them bachelor, the curriculum is often fixed. And yes, many institutions offer the opportunity to students to pick a minor, however, also these are often limited to a certain set. What if students get the chance to create their own study program?
Develop yourself professionally with Free Choice
Cláudia Martins Carvalho and Denis Nico Dias are two students that are currently doing their Free Choice at Fontys Fine and Performing Arts in Tilburg, the Netherlands. They are both originally from Portugal and came to study at the Academy of Music and Performing Arts from Fontys. They chose to do a Free Choice as their free part of the bachelor, because they really wanted to develop themselves artistically as much as they could. They combined their budget and made a business proposal to start their own string octet. Once they got their free choice approved, they had to kick start their octet, which also meant learning a lot about the business side of music. They were forced to develop their management and organization skills because they had to schedule rooms, arrange sheet music, schedule practices, manage budgets, get in contact with professionals in the work field and so on. They realized that this side is really important for their professional future.
To Cláudia and Denis, the project has already become a success.
"Free Choice definitely changed our lives. We really want to make our career form what we are doing as Free Choice."
They combined their musical skills, with their newly discovered business mindset and effectively made use of the possibilities that the institution offered. To this day, they already performed several concerts and were even invited to play together with the Orchestra Filarmonica di Torina in Turin, Italy.
"Opportunities just appeared after we decided to create this free choice."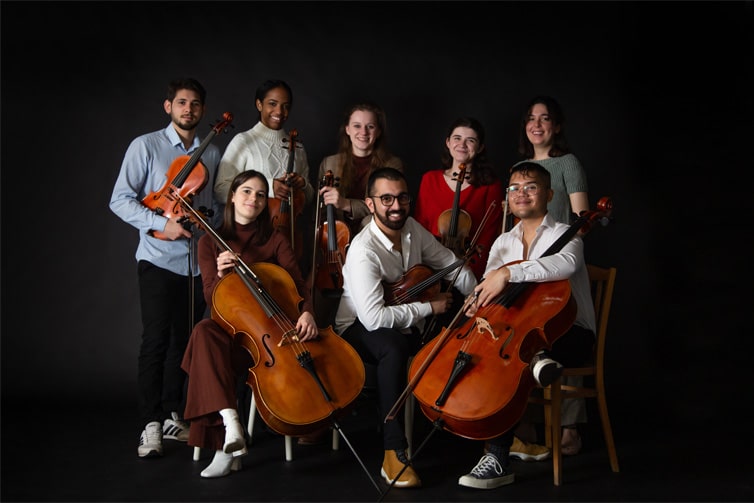 Free Choice as part of the Bachelor
Fontys Fine & Performing Arts is a higher education-arts institution, located in Tilburg, that offers various arts bachelors and masters towards those that would like to explore and master their arts discipline. To help the students in deepening and broaden their knowledge and skills, Fontys Fine & Performing Arts offers bachelor-students the possibility to apply for the Free Choice program. A Free Choice is the free part of the bachelor where students get the opportunity to explore something that they are passionate about. This means that it should have a connection with their studies, but apart from that, they are free to explore new sides of their discipline. Once students have composed their free choice, they get a budget of €1100 to realize these plans and dreams.
Students that are studying at the Academy of Music and Performing Arts can, for example, use their budget to get lessons from professional composers or musicians. Moreover, they can use it to learn a second instrument or to get jazz singing lessons, while they normally sing classical music.
"When a student dares to do something, the school provides them with opportunities."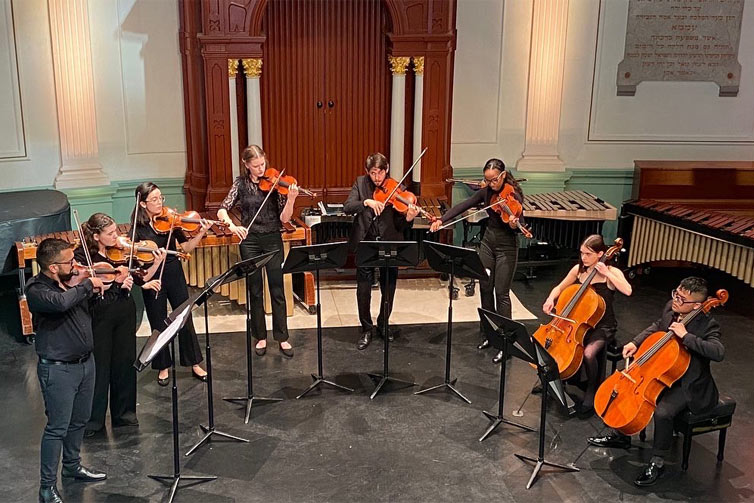 Do you dare to explore your endless possibilities?
According to Cláudia and Denis, Free Choice is a big plus for the institution since it actually prepares you for future in the arts. You do not simply learn what you are told, but you are forced to think for yourself and truly become a professional at work.
Free Choice is one of the options that Fontys Fine and Performing Arts offers their students. Apart from this unique possibility, Fontys Fine and Performing Arts offers excellent education with a lot of personal attention.
Learn more about Fontys Fine and Performing Arts
Related topics