The programme at glance:
Interdisciplinary approach to international relations
Student mobility among 4 universities
First-hand experience of living and studying in 4 countries of Central Europe
Programme duration: 2 years, full-time
Start date: 1 October 2023.
Minimum requirements: BA degree
English: minimum B2
Tuition fee: EU students: 8,600 EUR /Non-EU students: 12,100 EUR*
* Tuition fees are paid in 4 installments.
**For the students granted the scholarships tuition fees and mobility cists are covered.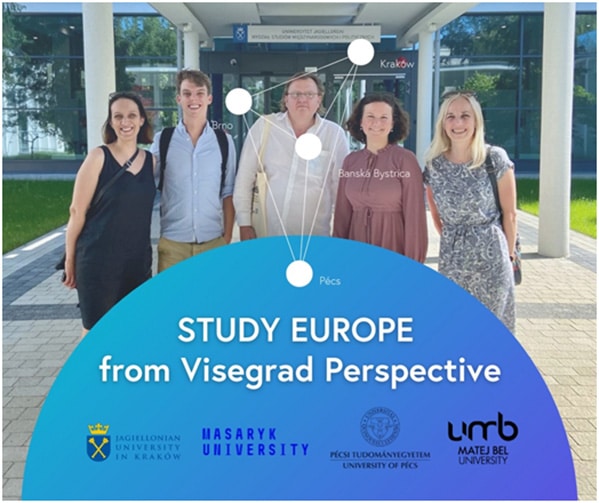 The joint Master's degree programme in International Relations is carried out within the framework of the VNDREAM network, which consists of: Jagiellonian University in Kraków (Poland), Masaryk University (Czech Republic), University of Pecs (Hungary) and Matej Bel University in Banska Bystrica (Slovakia).
This joint Master's programme offers a unique opportunity to study international relations, European politics, economy, society & culture from the perspective of the Visegrad region. Experienced faculty of the leading universities from the Visegrad region as well as visiting professors and guest lecturers from renowned international academic and diplomatic institutions provide insightful and inspiring instruction about major developments in contemporary international law, economics, politics and culture in light of the European integration processes seen from the standpoint of the Visegrad region.
Graduate Profile
Upon the completion of this programme, graduates will demonstrate high competence in contemporary international relations as well as the history and culture of the Visegrad and the wider Central Europe region. More specifically, they will acquire the knowledge necessary for a better understanding of the complex nature of the interplay between global and regional phenomena affecting the functioning of international organisations, businesses and civil society. Graduates will be prepared to work in international organisations, diplomatic service, public administration, mass media and civil society organisations. If interested in pursuing an academic career, graduates will acquire the analytical ability to conduct individual research as prospective doctoral students.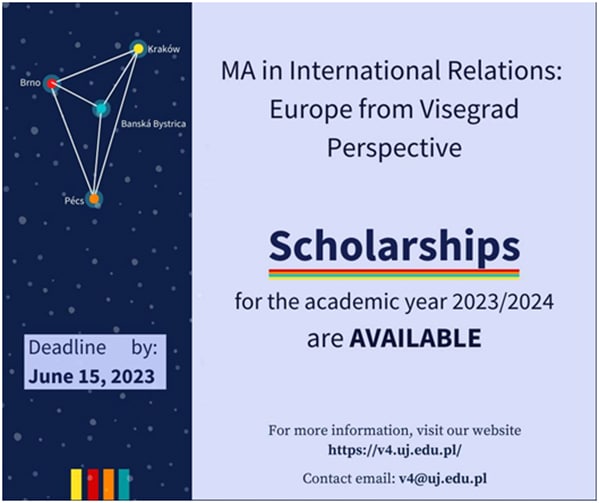 Scholarship opportunities
In the academic year of 2023/24 up to 10 scholarships will be awarded for the duration of the study programme.
Eligible to apply for scholarships are the students holding the citizenship of:
one of the Visegrad Group countries
one of the EU Eastern Partnership and Western Balkans countries
Scholarship amount:
Scholarships are awarded for the whole duration of the 2-years programme and cover the following:
tuition fee
mobility costs in the amount of 2 300 EUR per semester.
Application deadline: 15 June 2023.
Results will be announced on the grant webpage.
Selected students will also be informed via e-mail.
You can find out more about the application procedure and the required documents.
We encourage you to apply!
Get in touch with us:
e-mail: V4@uj.edu.pl
webpage: www.v4.uj.edu.pl
Facebook: www.facebook.com/visegradstudies
Learn more about Institute of European Studies
Related topics