Clara Maspons always knew she wanted to make a difference. And studying for her Masters in Innovation & Entrepreneurship at Vlerick Business School gave her the opportunity to create real social impact.
Along with fellow students Natalia Villarreal and Zainab Dakik, she launched a start-up called Maternia. The company's purpose is to help save the lives of millions of babies in low and middle-income countries.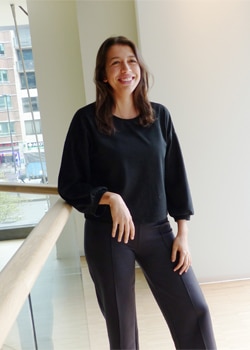 Clara explains: "In places like Europe and North America, women benefit from advances in obstetric practices and technology. But in low and middle-income countries, access to quality maternity support can be limited."
This is a situation that leads to 84% of global stillbirths happening in low and middle-income countries.
Maternia's goal is therefore to provide a low-cost, accessible, non-invasive way to help detect potential problems at an earlier stage of pregnancy.
Business for social impact
While Maternia ticked all the right boxes for innovation, Clara, Natalia and Zainab were aware that their Masters degree was also about entrepreneurship.
Vlerick's professors and coaching experts were on-hand to guide Maternia's founders to see how an NGO can generate income and make a difference to society.
Clara says: "Business and social purpose are not separate things. Vlerick gets this – and sustainable business is baked into their teaching.
Purpose over profit
"We had high-profile entrepreneurs and professors helping us to challenge our thinking and take clear business approaches to make these ideas reality.
"Vlerick played a key role in turning the idea into a reality and supported our approach to prioritise social impact over profit."
A winning pitch – and seed investment
At the end of the Masters in Innovation & Entrepreneurship, the Maternia team competed for seed investment from the Vlerick Entrepreneurship Fund – and won.
Their technology is now in development – and will eventually become available as an app, allowing pregnancies to be monitored from expectant mothers' homes.
Clara adds: "I had this amazing opportunity to learn how to launch a start-up – and to do it as part of a diverse community of entrepreneurs. I was able to be guided by more established entrepreneurs, be introduced to funders and get continuous support.
"At Vlerick, you learn that business success can be measured in social impact as well as profit. An NGO can generate income… they simply do it with a different business model, which puts people's needs first."
Find out about Vlerick's Masters in Entrepreneurship visit to Silicon Valley:
Want to find out more about Vlerick's Masters in Innovation & Entrepreneurship? Book a call with the team and tell them about your ambitions!
Learn more about Vlerick Business School
Related topics