Study in the UK
Study in the UK offers you a long history of teaching the world's greatest leaders, thinkers and artists. You can choose from traditional UK universities that have taught for hundreds of years, or modern, state-of-the-art universities and colleges throughout England, Scotland, Ireland and Wales.
Search UK Courses by location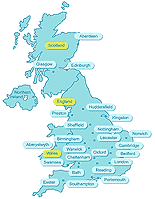 Use our interactive map to search for UK courses by location.
Why study in the UK?
How much will a UK education cost?
Important information about studying in the UK

From the world-class reputation of UK universities to the vibrance of its cities and culture, England, Scotland, Wales and Northern Ireland have a lot to offer international students.

In order to study in the UK you will have to look at tuition and living costs for your stay. Use our guide to help you calculate your UK study costs.

Once you've decided what to study you need to consider entry dates, application deadlines, UK student visa deadlines and English language requirements.
Read More...