Making the world a better place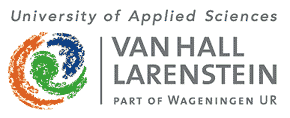 The living environment, in the city as well as the countryside, is under a lot of pressure. We have to produce food, but we also want to grow crops for sustainable energy sources such as biofuel. At one end of the world there is a shortage of drinking water, yet people like to have swimming pools. In other areas there is a serious threat of floodings.
How do we deal with our resources and how do we make sure there's enough food, water, energy and medicine for the world's population? How can we stimulate people to be vigilant with natural resources, the environment and sustainability?
People all over the world are involved in animal and livestock husbandry. The Netherlands has, as seen in a worldwide perspective, a special position in livestock husbandry. In spite of the country's small size, there is a large production of for example meat and milk. The care, accommodation and nutrition of millions of animals are big business, in which innovative developments are the order of the day.
Through the ages, the Dutch have gained a lot of expertise in this field and Dutch people, and especially former Van Hall Larenstein students, are frequently being asked to put their expertise to the job in other countries. That is why our study programmes are internationally oriented. So, who knows, you might go to China in the future, to nip an animal virus in the bud!
Van Hall Larenstein is a unique university of applied sciences. The curricula focuses on nature and environment, human and animal health and responsible entrepreneurship. Combinations of these areas of expertise result in a special and challenging higher vocational education with majors that are unique in the world!
Contact us for more information: info@vanhall-larenstein.com
If you want to receive the StudyLink Study Abroad Newsletter, so that you get the most up to date study abroad advice in your inbox, you can
sign up here
.