Study in the USA
American colleges are still the number one choice for international students and have the highest number of world ranked universities. Studying in the USA gives you the chance to expand your career options, explore a huge and diverse nation, and learn from internationally-renowned teachers and researchers at US colleges and Graduate schools.
Search USA courses by location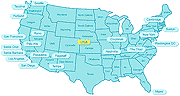 Use our interactive map to search for USA courses by location.
Why study in the USA?
How much will an american education cost?
Important information about studying in the USA

Apart from being the leading destination of choice for international students, the USA offers a wide range of attractions and opportunities.

It is essential that you calculate how much your US study costs will be - both tuition fees and living expenses. Use our guide to help you understand the costs of a US education.

When to submit your application, when and how to apply for a US student visa and English language requirements are just some of the questions international students face when wanting to study in the USA.
Read More...