Study in New Zealand
When you study in New Zealand, you'll discover a unique country – the ultimate outdoor playground with excellent study opportunities. It's a safe and welcoming community with a world-class reputation for cutting-edge research and creative energy.
Search NZ courses by location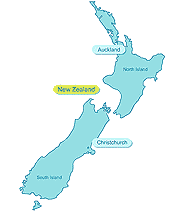 Use our interactive map to search for NZ courses by location.
Why study in New Zealand?
How much will a New Zealand education cost?
Important information about studying in New Zealand

All New Zealand universities provide an internationally recognised education, with strict quality controls over teaching at New Zealand colleges. New Zealand courses are usually located in one of the multicultural cities – New Zealanders travel overseas a lot and are welcoming of other cultures.

The cost of studying in New Zealand compares well against other destinations and you can expect to find a high standard of living.

Learn more about intake dates, application deadlines, student visas and English language requirements before applying to a New Zealand University or College.
Read More...