Photos (11)
Testimonials
Ugur Bagci, Turkey
Master of Science Programme: Electrical Engineering MSc

I was looking at world rankings in Electrical Engineering, and I found out that University of Twente (UT) was among 100 top universities in the world. Very few European universities can achieve this. After that I deepened my research on UT, talked to my professors, and decided that it is one of the best universities to apply for.

First of all, UT offers wonderful research opportunities such as very advanced laboratories, well known and highly knowledgeable academic staff, and numerous projects waiting to be realized. There are always presentations and project meetings going on, which indicates how much importance UT professors give to research. Beside this serious study environment, professors and course instructors approach students very positively and friendly. They are trying to get involved in almost all student activities, and support their efforts and ideas. This connection motivates students in their studies and social life. Guest lecturers are sometimes invited which lets students gain a better perspective in different application areas. During the lab sessions, team work is very important, because the university is not only educating students for an academic career, but also for the industry. A team of 15 students is building a radio as a final lab assignment; this is not a thing that can be seen in every university. All financial needs, components, test equipments etc. can be provided by UT easily, and computers are waiting to be used almost everywhere. So to say, a student has to be willing to learn, and develop; UT will take care of the rest.

Secondly, administrative staff thinks of every single necessary and important procedure. It is so natural for a student to get confused in formal steps. Numerous papers for enrolment, housing, insurance, bank account, and other essential issues such as appointment with doctor, phone card, e-mail account, procedure for course enrolments and many other new things are taken care of UT administrative staff. During the introduction week, students are handed a program full of appointments which are pre-arranged. Administrative staff is always willing to help and guide them whenever the students ask for it. Thus, life becomes much easier at UT.

Thirdly, UT has a very green campus in a cute city, Enschede. Faculties, laboratories, library, different kinds of houses, sport fields including even a beach volleyball field, supermarket, even a bar are located on this huge campus which provides a student everything he/she might need. Also, UT campus is 15-20 min bike ride distance away from the city, so the mobility is easy. Spending a lunch break in the city center and coming back in time is possible. Although the city center has many attractive sides such as a bazaar with a very good quality food, and clubs for nightlife, it is also possible to travel to other cities. Advanced rail transportation enables students organize their trips and travel extremely easily. One of the craziest capitals throughout the world, Amsterdam is around 2 hours away from Enschede by train. Furthermore, Enschede is home to a successful football team, last champion of The Netherlands, FC Twente. Its stadium, Grolsch Veste is 5-10min walking distance away from the campus which enables UT students to enjoy many victories easily.
Ferry Harris, Indonesia
Master of Science Programme: Business Information Technology
After having completed a bachelor programme in Computer Science in Indonesia, I did not want to spend all the precious time only behind the computer. I wanted to meet new people and to travel. And this is how I got acquainted with the University of Twente for the first time.

In 2006 I found a Master programme that suited me very much, Business Information Technology. This programme offered the combination of business and IT, which I was looking for. Starting in 2008, I completed this 2 year programme with joy and excitement. Being in Europe for the first time and meeting lots of International students and teachers, made the time fly so fast. The University of Twente also offered many meaningful activities for both my professional experience and personal development. Such a broad human resource development made me more confident in many ways. In the business world both hard and soft skills are important, and this is what the University of Twente helped me to develop.

The teachers at the University of Twente have good academic and professional networks, which helped me to get acquainted with the high-end industries in Europe. By the time I needed to write my Master thesis, I managed to do a project with one of the biggest Telecommunication companies in the world located in Germany. This practical experience definitely brings more value to my academic records.

Currently, with the degree I got from the University of Twente, I managed to get my first job in Europe, as an IT Auditor in one of the biggest multinational companies in Germany - Deutsche Post DHL. I believe the name of this university helped me to get this job, as many companies in Europe already have acknowledged the good quality of the graduates from the University of Twente.
Jia Tian, China
Master of Science Programme: Telematics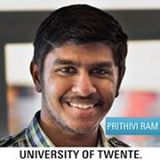 The choice for the University of Twente was easily made. It was recommended to me by a friend of mine who studied in the Netherlands. Later I also found out that the University of Twente ranks very high worldwide especially for the Engineering studies. Moreover the master programme perfectly matched my bachelor background.

It was very comfortable to live on campus. It is a very green area with different sport and culture facilities. There are different possibilities to engage in active social life. For example, I was a member of The Association of Chinese Students at the University of Twente, where I helped to organize several events such as badminton matches, football matches, Chinese New Year Party, etc. The location of campus is ideal if you like to travel: it is only a few minutes away from Germany!

The master program I studied is well organized. The international students can take bridging courses to cover the differences between the curriculums of the University of Twente and their home universities. Most lectures are given within small classes, which largely promotes the interaction between teachers and students. The study mode (team-work and individual assignments) to which I became used to during my student life, taught me how to adapt to different working environments which often require strong team-building skills. The final project proved to be the most useful for my career path as it showed me what kind of jobs I like and qualify for. During the final year I could already try myself in the business world as I worked part-time as a junior System Administrator in a consulting firm in Enschede.

After working as a Java software engineer at Spin B.V. for two years, I was employed as an analyst programmer at a very prestigious consultancy in the Netherlands - Accenture Technology Solutions. Currently I am working in London at the Kingston University as a system analyst within the infrastructure team.
Map

Printing Layout