MBA Programs
An MBA or Masters of Business Administration is available at universities, colleges and business schools worldwide. Since the first Executive MBA was awarded in 1940, students with an MBA have had an advantage in business. Finding the right one for you is an important choice in advancing your career.
Search MBA courses by location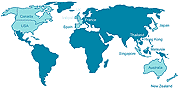 Use our interactive map to search for MBA courses by location.
Which MBA is right for you?
Types of MBA Program
MBA Guides by Clear Admit

There are 1000s of MBA Programs to choose from so we have selected over 600 at different levels of cost, location, work experience and reputation for you to compare and apply to online.

You can take an MBA in a variety of study modes. Many MBA Programs are for 2 years, but other options are available depending on your needs.

You can now boost your chances of admission to the world's top MBA programs.These MBA guides will save you time by giving you invaluable knowledge of both the admissions process and the leading MBA programs. This allows you to make the best choice of program given your goals, and to succeed with your application.
Read More...