Study in Japan
More than 100,000 international students study in Japan every year. Japanese Universities offer excellent academic standards and high-tech resources and facilities for students.
Search Japan courses by location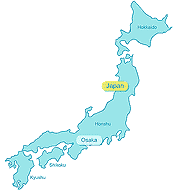 Use our interactive map to search for Japan courses by location.
Why study in Japan?
How much will an Japanese education cost?
Important information about studying in Japan

There are over 700 universities in Japan, most of which are private. Education is highly regarded in Japan – it has a near-perfect literacy rate and English is a compulsory part of study in Japan.

One of the most important aspects of choosing your study abroad destination is cost. The cost of studying in Japan compares well against other international study destinations, especially if you study outside of the main urban areas.

Learn more about intake dates, application deadlines, student visas and English language requirements before applying to a Japanese University or College.
Read More...