Engineering
An Engineering course and career can take you around the world, working on a wide range of exciting and life-improving projects and products. If you enjoy the sciences, maths, design and technology, an engineering course may be the right choice for you.
Search Engineering courses by location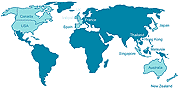 Use our interactive map to search for Engineering courses by location.
Which Engineering is right for you?
Types of Engineering course
Compare now

It's important to consider which area of engineering study you will specialise in, as they can lead to very different careers. Civil engineers build the structures that define our civilisation – bridges, buildings, transport systems. Electrical engineers study how technology can build new products, or develop new processes for manufacturing and design. Or you could design and build planes, space aircraft, robots, medical equipment, or even computer programmes.

You can study engineering courses at diploma, undergraduate and postgraduate level. Most highly paid engineering consultants have a postgraduate engineering degree. Some also study joint degrees, combining engineering courses with law, business, computing or even medicine.

Find and compare the right Engineering course for you.
Read More...