Study in Canada
Universities in Canada offer world-class education, with 12 Canadian universities ranked in the Times Higher Education Supplement Top 200. Studying in Canada has many other benefits too: affordable tuition fees, the opportunity to work while you study and for a year after you graduate, and a great lifestyle in a beautiful and diverse country.
Search Canada courses by location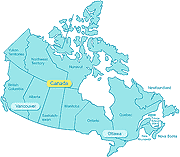 Use our interactive map to search for Canada courses by location.
Why study in Canada?
How much will an Canadian education cost?
Important information about studying in Canada

Canadian universities are highly regarded around the world. Courses in Canada offer great value for money – tuition fees are lower than many other English-speaking countries, and the cost of living is affordable.

One of the most important aspects of choosing your study abroad destination is cost. Studying in Canada offers great value for money in terms of tuition fees and living costs.

Learn more about intake dates, application deadlines, student visas and English language requirements before applying to a University or College in Canada.