Study in Australia
Australian universities and colleges have an excellent reputation for quality international education with several in the Top 200 Jiao Tong University Ranking. For many students, studying in Australia is about the opportunity to live a unique lifestyle - explore the natural wonders of its oceans and rainforests, enjoy weather like home and the buzz of its cosmopolitan cities.
Search Australia courses by location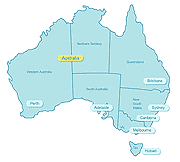 Use our interactive map to search for Australia courses by location.
Why study in Australia?
How much will an Australian education cost?
Important information about studying in Australia

From it's international reputation for academic excellence to it's affordable tuition and living expenses Australia has a lot to offer international students.

One of the most important aspects of choosing your study abroad destination is cost. Studying in Australia is more affordable than other options.

Learn more about intake dates, application deadlines, student visas and English language requirements before applying to an Australian University or College.