Architecture & Building
An architecture degree offers you a unique combination of design, culture, science an technology. It gives you the skills you need to design and create new buildings, from private homes to skyscraper office towers, shopping centres and hotels.
Search Architecture courses by location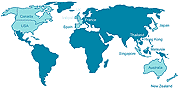 Use our interactive map to search for Architecture courses by location.
Which Architecture and Building course is right for you?
Types of Architecture and Building course
Compare now

We have selected over 1000 Architecture and Building courses at different levels of cost, location and reputation for you to compare and apply to online.

You can study Architecture and Building at diploma, undergraduate and postgraduate level. Postgraduate study is highly regarded by specialised employers.

Find and compare the right Architecture and Building course for you.
Read More...